April 5yh, 6yh and 7th, the 15th YRoNS (Young Researcher of Natural Sciences) took place. For the 4th consecutive year (and the 3rd in a row), the Lycée Ozanam took part, with partners from India, the Netherlands, Norway, Slovenia and Hungary, i.e. more than 100 participants.
this year's theme is « Science movie »  https://www.yrons.org/
After creating the logo for this year (thanks to Anaëlle, Maylis and Maxime)
Judith was our ambassador, participating for the third time in the YRoNS conference. It was an opportunity to present our country, our region, our city and our school.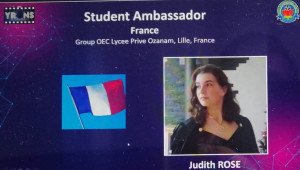 For the cultural presentation, Maylis (trumpet) and Milo (guitar) played the European anthem.
Many speakers during the conference
Congratulations to our participants, we will meet again at the return of the spring holidays to give them a certificate of participation in this 15th conference.
We are looking forward to the 16th edition, which should normally take place at our German partner's, this time in person.